The Mist Tankless Reverse Osmosis system is a h
ighly efficient, 6 stage filtration, dual filter, compact under-sink system with a stainless-steel smart faucet
400 GPD
Product size: 17.1" X 5.5" X 14.8"
See our FAQ below for more information
Regular price
$409.00 USD
Regular price
Sale price
$409.00 USD
Unit price
per
Sale
Sold out
Share
View full details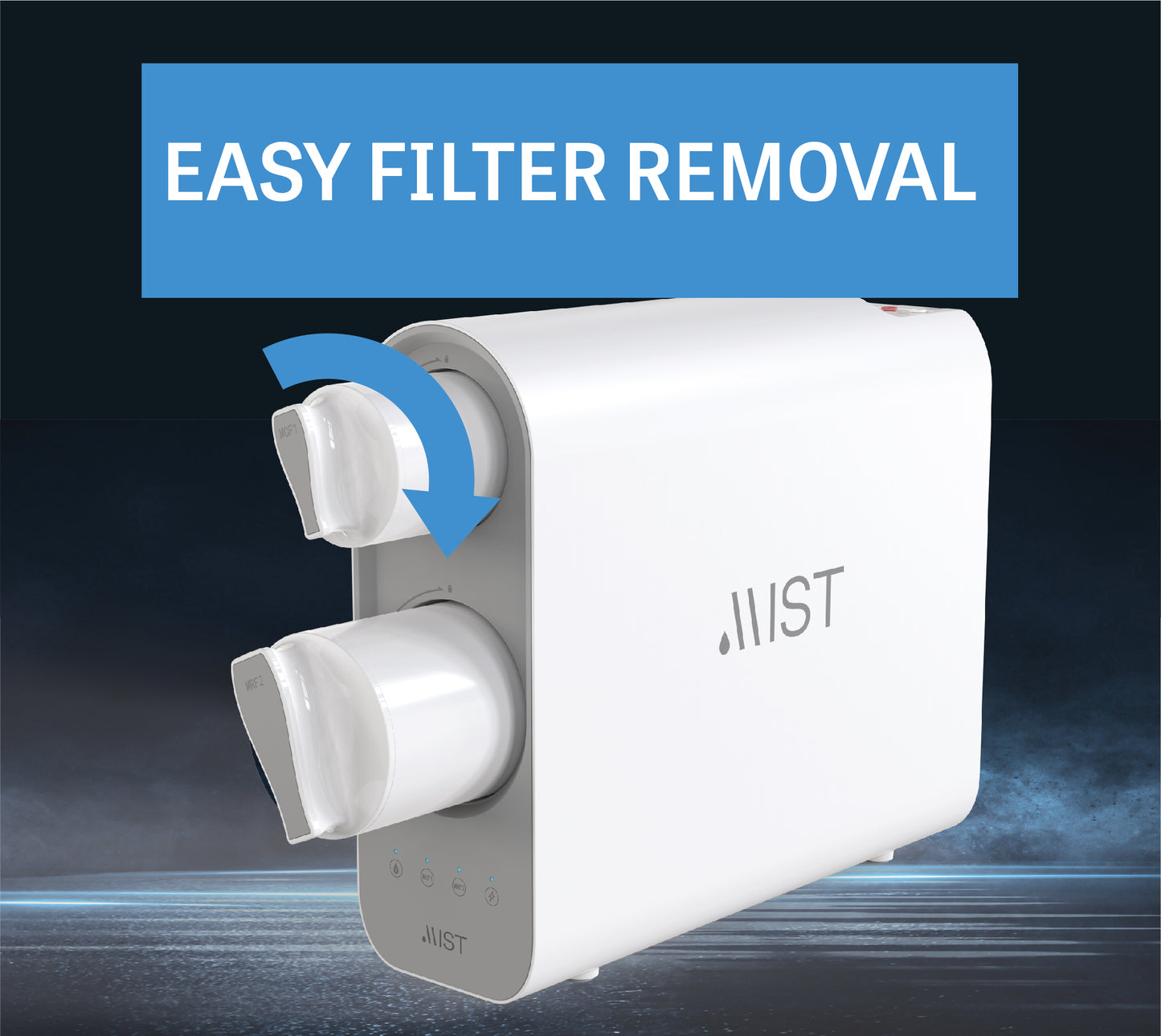 Collapsible content
How many stages is this system?

This Mist RO System has a total of 6 filtration stages.
What is included?

The Mist Tankless RO Under Sink System, Stainless Steel Smart Faucet, Mist Carbon Filter (MCF1) and Mist Reverse Osmosis Filter (MRF2) are preinstalled, owner's manual with clear instructions, and any accessories needed for installation.
This RO system includes a stainless-steel smart faucet. The smart faucet display will indicate if TDS is being reduced and working properly and will remind you when the filters need to be replaced.
Is this system certified?

This system is not certified by NSF International, however, they meet all NSF Standards, NSF/ANSI 58 for material safety, structural safety, and TDS reduction and NSF/ANSI 372 for lead-free compliance.
What does this system filter?

This system uses a dual filter design with a carbon block and multiple reverse osmosis membrane filters (MCF1 and MRF2) to optimize the filtration to ensure the purist water.

The Carbon Block (MCF1) filter removes sediments, rust, large particles, colloids, chlorine, fluoride, and scale to improve the taste and odor of drinking water.

The Multiple Reverse Osmosis (MRF2) filter reduces TDS (Total Dissolved Solids) by more than 90% and effectively reduces bacteria and metal without removing beneficial minerals from tap water.
Do reverse osmosis systems remove bacteria?

This system effectively reduces TDS, heavy metals, and bacteria by 90% without removing the beneficial tap water.
What is TDS?

These solids primarily include inorganic substances such as calcium, magnesium, potassium, chlorides, and sulfates but may include small amounts of organic contaminants as well. A high concentration of TDS in drinking water can adversely affect the taste, odor, and appearance of the water. Moreover, a high concentration of TDS can be an indicator that harmful contaminants such as iron, manganese, sulfate, bromide, and arsenic may also be present in the water.
Does this RO system require electricity?

Yes, this system requires an under-sink electrical outlet.
Can I install my tankless reverse osmosis system by myself?

Yes, this system can be installed by anyone and should take about 30 minutes to complete.

Tools needed for installation.

A faucet hole is required, if there is no preexisting hole one will need to be drilled prior to installation (placement sticker and instructions are included).
How to install the Mist Tankless RO System?
How do I know if my RO system is working?

The system's light indicator display will indicate if the system is on and working, filtering water, in the flushing state, and remind you in advance to replace the specified filter cartridge.
The benefits of a tankless reverse osmosis system vs traditional systems with a storage tank:

Tankless RO systems have several benefits compared to traditional RO systems. They are compact, take up less space, produce water on demand, resulting in fresher water and a lower risk of bacterial growth and secondary contamination, waste less water, and do not require a storage tank.
Where does my reverse osmosis system install? Does it take up a lot of space?

This system installs under your sink in an upright position. The tankless compact design allows you to save 70% of your under-sink storage space compared to traditional RO systems making them an ideal choice for homes with limited space.
Our System Size: 17.1" X 5.5" X 14.8
Are reverse osmosis systems wasteful?

Tankless RO systems are less wasteful than traditional systems which produce more wastewater to pure water when filtering and storing it in the tank. With the Mist system, you will gain access to pure drinking water on demand with our 1:1 pure-to-drain ratio less wastewater per cup of purified water. Each gallon of purified water produces 1 gallon of wastewater compared to the average system with a 3:1 drain ratio.
Will a reverse osmosis system decrease my flow rate? Or does it filter water from a different waterspout?

The filtered water will not affect your regular faucet flow rate.
The system produces clean pure water on demand through the provided faucet and fills up a seven-ounce cup of water within 12 seconds and can filter up to 400 gallons per day.
The system flow rate is .28 GPM, and the faucet max flow rate is 1.45GPM but, it may vary based on the quality of your water.
Are tankless reverse osmosis systems hard to maintain?

No, our tankless RO system requires little to almost no maintenance. Tankless RO systems are easier to maintain compared to traditional systems because they don't have a storage tank that requires periodic sanitizing and cleaning. The only task is replacing the filters which take about 2-3 seconds.
What is the life expectancy of a reverse osmosis system? And is it worth the cost?

With proper maintenance, a reverse osmosis (RO) system can last up to 10-15 years, providing you with clean and safe drinking water throughout its lifespan. Maintaining the system and changing the filters regularly is essential to ensure that it performs at its best.

In comparison, tankless RO systems are much simpler to maintain and require very little upkeep. Additionally, they can produce fresher water. Although they may be a more significant investment initially, they can pay off in the long run with minimal maintenance costs.
Do tankless reverse osmosis systems produce alkaline water?

No, our system does not produce alkaline water.
Do tankless reverse osmosis systems work?

Yes, tankless RO systems do work, and they effectively remove a wide range of contaminants from drinking water, including bacteria, dissolved solids, minerals, chemicals, and microorganisms.
Are tankless RO systems loud and noisy?

No, this system has an integrated design that ensures the system runs quietly and efficiently throughout the day.
Do tankless RO systems automatically flush?

Yes, our system automatically flushes for 18s after 30 minutes of accumulated use.
Is this a whole-house reverse osmosis system?

No, this is a POU under-sink filtration system.
Do reverse osmosis systems work for well water?

We don't recommend using well water as a source due to its complicated composition. If you are using well water before installing the system, ensure that the feed water has passed through a prefiltration system otherwise large particles may clog the filter and shorten the filter life.
What should I do if I have any issues with my RO system?

Contact our customer service team at info@mistfilters.com