Mist water softening chrome shower head, with a replaceable high-quality filter designed to eliminate contaminants such as sediment, rust, and many microscopic particles with a 15 stage filtration system. Effectively removes chlorine and bad odor-causing bacteria from water. 
15 stage filtration system
Quick and easy installation process, not compatible with handheld shower arms
See FAQ below for more info
Regular price
Sale price
$29.99 USD
Unit price
per
Sale
Sold out
Share
View full details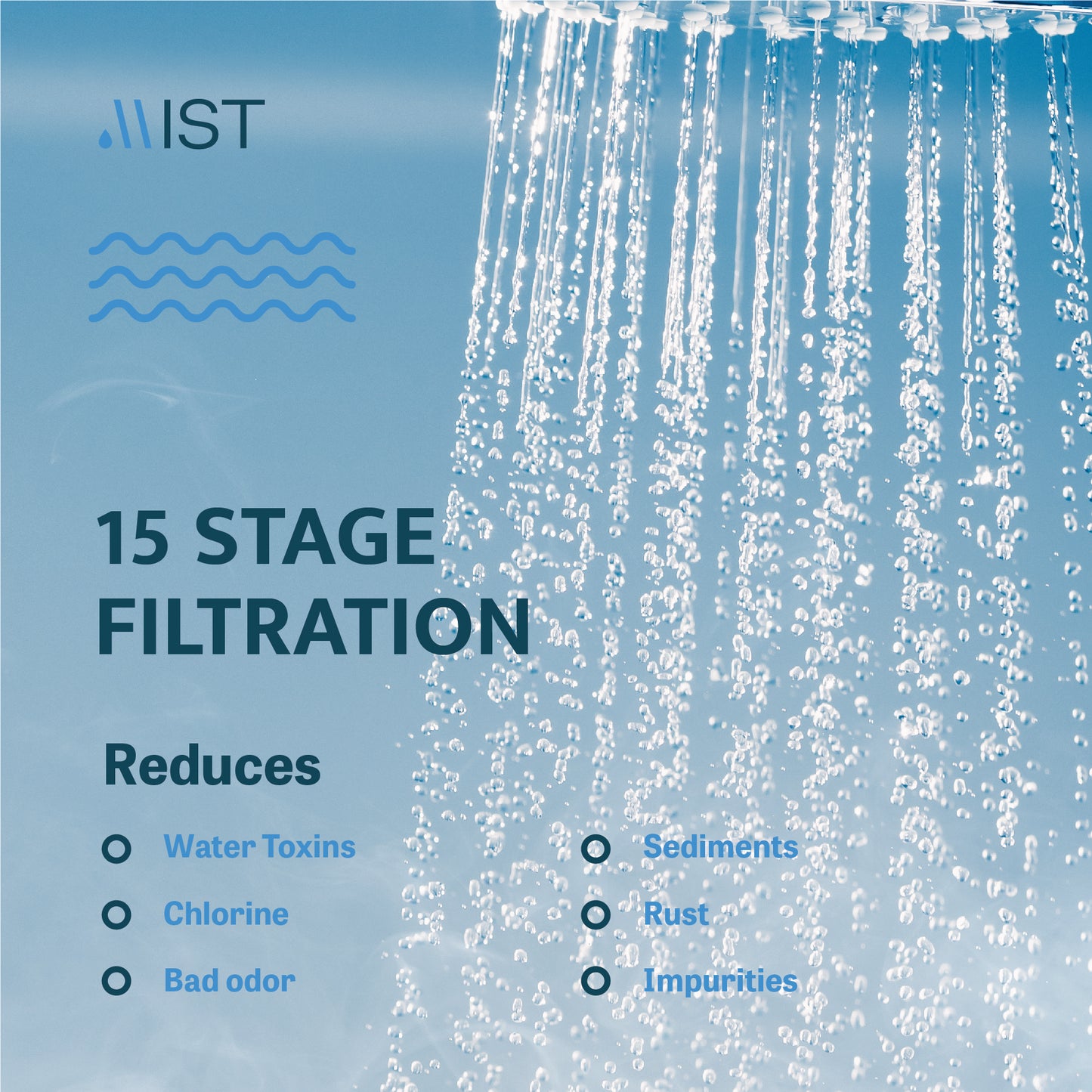 Collapsible content
What is a shower filter? And what does it remove?

A shower filter removes impurities and chemicals from shower water, making it healthier for the body and reducing the risk of exposure to harmful substances.
Can I install the shower filter myself?

Yes, the installation process is short and simple and can be completed by anyone.
Easy to follow instructions are included.
How long do shower filters last? How do I know when it's time to replace my shower filters?

The lifespan of a shower filter depends on several factors, including the quality of the filter, the water quality, and the frequency of use.
We recommend the filter to be replaced every 6 months or after 12,000 gallons whichever comes first or when you notice a decrease in water pressure.
Can the filter be replaced?

Yes, the filter can be replaced.
The filter life is 12,000 gallons or about six months (for an average household). You can find the replacement filter on our website with the model number MSC081 or using this link MSC081
What is included in my package?

Mist Compact Filtering Showerhead
Filter cartridge
Teflon tape
O-rings (2)
Where do I install my shower filter? Will this work with my existing showerhead?

This filtering showerhead replaces your existing showerhead.
What size is the Mist Compact Filtering Showerhead?

Diameter: 3inches
Length: 5.25 inches
Entry and exit valve: 1/2 inch thread
How do I install my Mist Filtering Showerhead?
Do shower filters really work?

Yes, shower filters work by effectively removing impurities and harmful substances from shower water, resulting in cleaner, healthier water for the body.
How many stages does the Mist Filtering Showerhead have?

This filter has a total of 15 stages:

Stage 1: Stainless Steel Mesh
Stage 2: PP Filter
Stage 3: Calcium Sulfite
Stage 4: Coconut Activated Carbon
Stage 5: KDF 55
Stage 6: Alkaline Ceramic Balls
Stage 7: Energy Ceramic Balls
Stage 8: Maifan Stone
Stage 9: Magnetic Ceramic Balls
Stage 10: VC Energy Balls
Stage 11: Tourmaline Ball
Stage 12: Far-IR Mineralization
Stage 13: Ceramic Balls with ions
Stage 14: PP Filter
Stage 15: Stainless Steel Mesh
Are shower filters hard to maintain?

The only maintenance required is periodically replacing the filter as recommended.
What are the benefits of Shower filters?

The Mist shower filter removes sediments, particles, chlorine, heavy metals, bad smells, and odors, while also adding micronutrients and boosting the immune system, metabolism, and blood circulation while balancing the body's Ph balance. It also energizes the water, releases revitalizing minerals, and helps reduce the size of water clusters, which results in softer, healthier skin and delays skin aging. Additionally, the filter helps prevent dry skin, eczema, and the growth of bacteria.
Will it reduce water pressure?

No, this shower filter has a high flow rate of 2.5 gpm
Can a shower filter help with dry skin?

Yes, shower filters help with dry skin, eczema and dandruff by removing chlorine and other impurities from your water, which can strip your skin of its natural oils and cause dryness.
Is this a shower filter for hard water?

Yes, the Mist Shower filter filters hard water.
Can shower filters be used with hot water?

Yes, shower filters can be used with hot water.