Tested and certified by NSF International to NSF/ANSI Standard 42. R

educes chlorine, taste and odor to deliver pure clean and refreshing water.

See full list of compatibility below.

Lasts up to six months or 200 gallons.
Regular price
Sale price
$16.99 USD
Unit price
per
Sale
Sold out
Share
View full details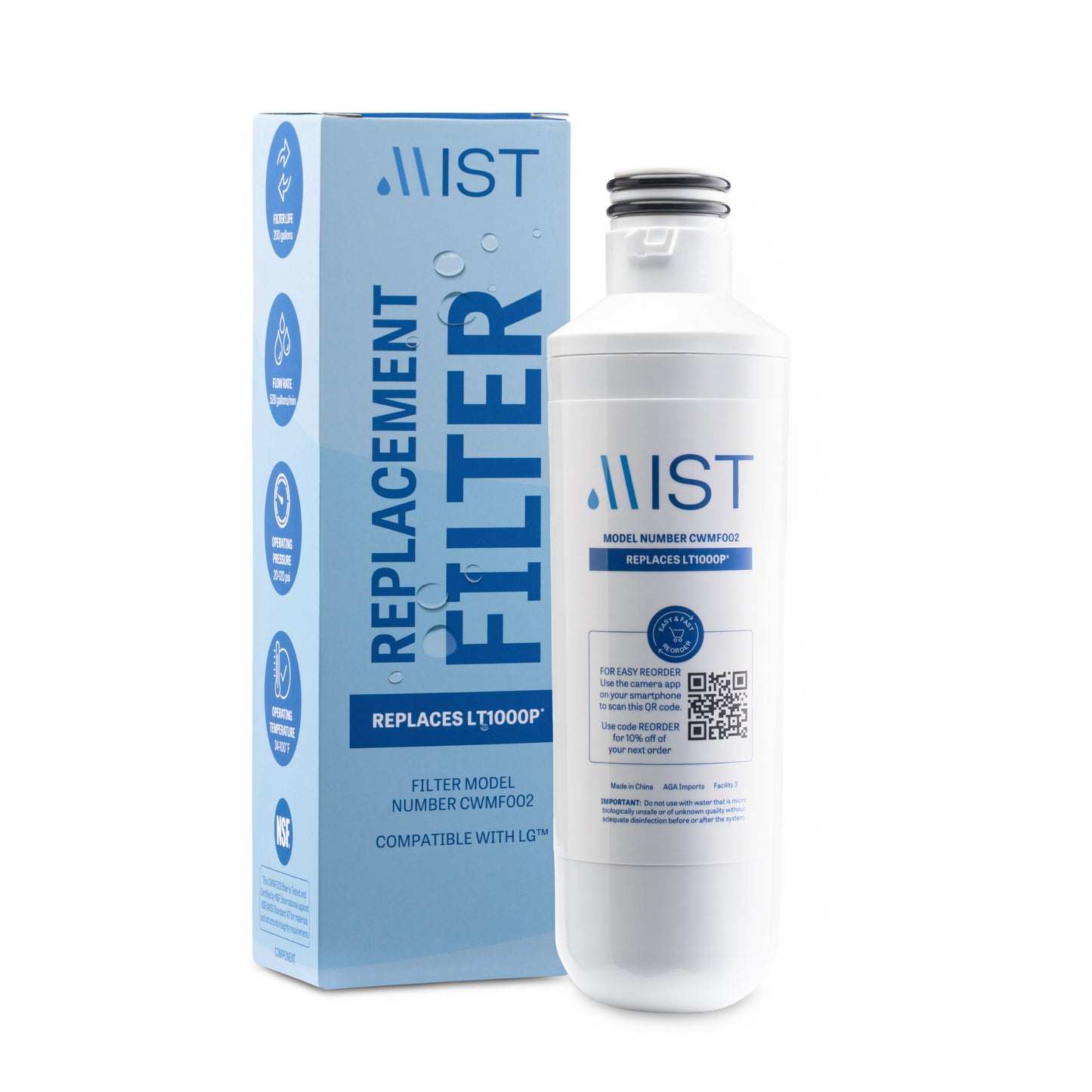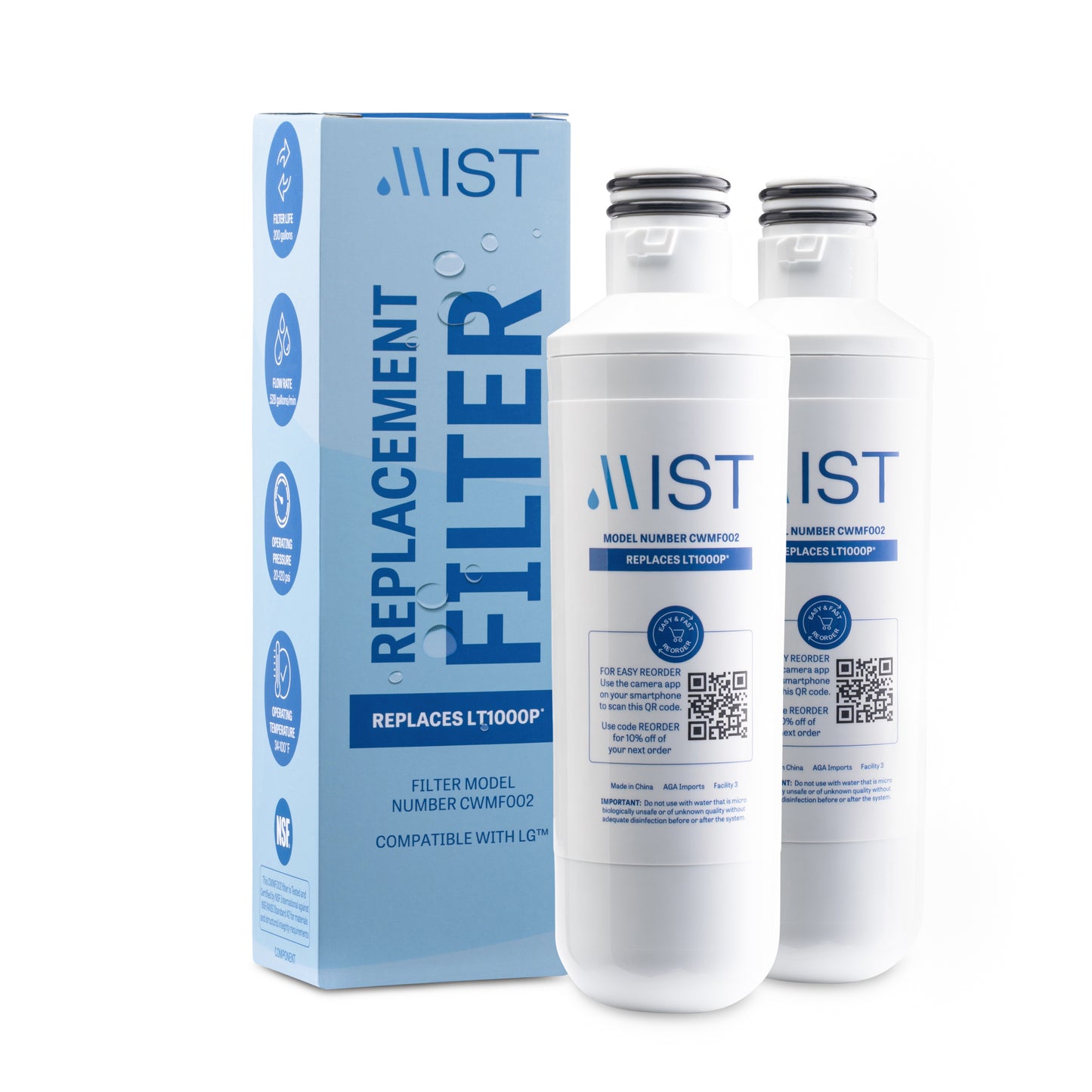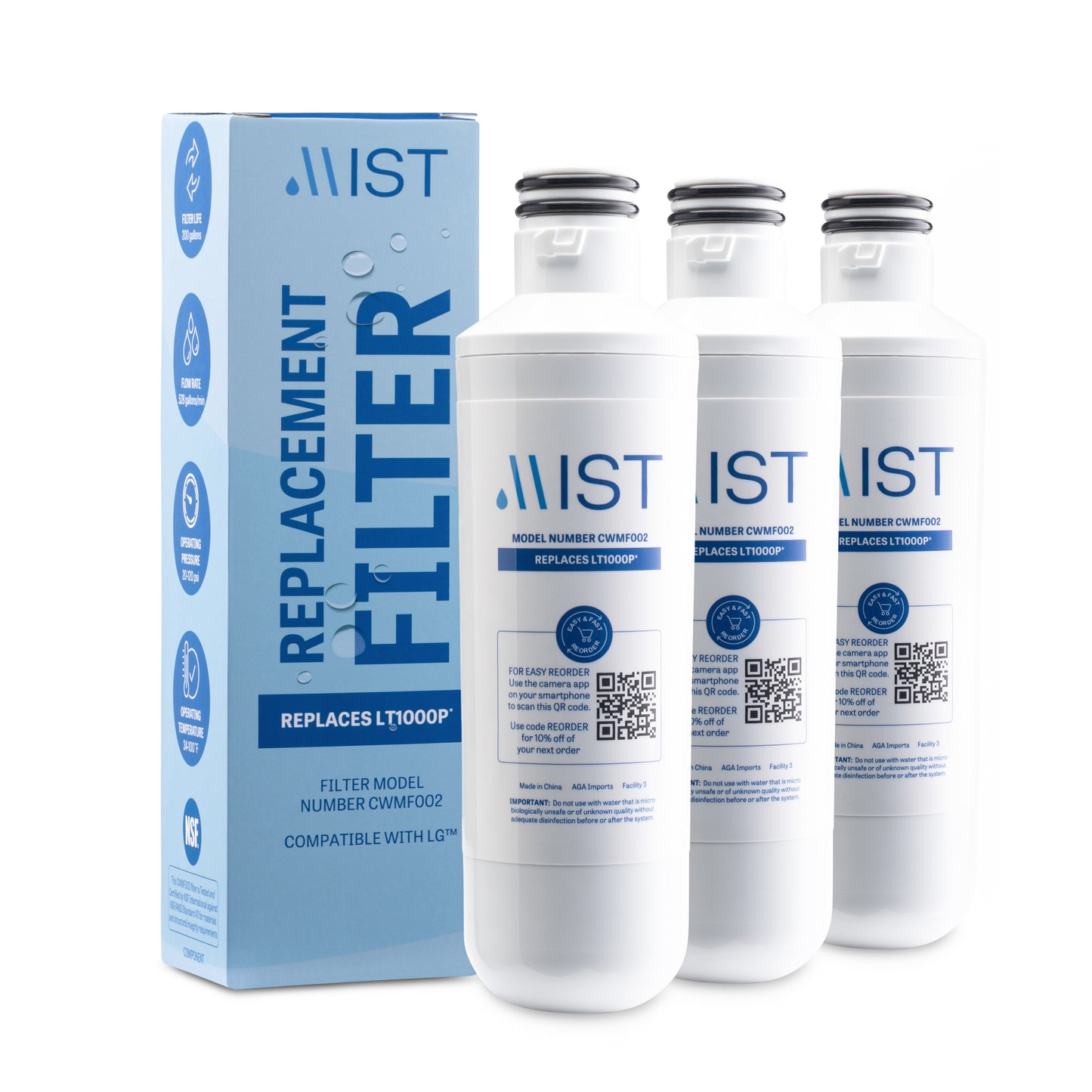 Collapsible content
How often should I change my filter?

Every 6 months, or as soon as you notice a reduction in flow rate.
Is this filter certified?

This filter is certified by IAPMO R&T and NSF International to NSF standard 42 for the reduction of chlorine.
Which refrigerators does the LT1000P filter fit?

LMXS30796S, LMXS30796D, LMXC23796S, LMXC23796D, LFXS30796S, LFXS30796D, LMXS28626D, LFXC24796D, LFXC24796S, LSXC22396S, LSXS26396S, LSFXC2496D, LSXC22396D, LMXS28626S, LFXS28968, LMXS28626, LFXS28566, LMXS28636, LFXS28968S, LFXS28566M, LMXS28636S, LFXS28968D, LFXS28566S, LFXS28566D, LSFXC2496S, LFXC22596S, LFXS26596M, LFXS28596D, LFXS26566M, LFXS26973D, LFCC22426S, LFXC22526S, LFCS28768S, LSXS26336S, LFXS26566S, LFXS26973S, LFXS26596S, LFXS28596M, LFXS28596S, LMXC23796M, LFXS27466S
Which water filters are compatible with this filter?

Compatible with the following LG parts:
LG LT1000P, LT1000PC, LT1000PCS, LT-1000PC, ADQ74793501, ADQ74793502, MDJ64844601

Compatible with the Following Kenmore Parts:
46-9980, 9980

Compatible with the Following Generic Replacement Parts:
CWMF002, AQF-LT1000P, GF-1000P, FL-RF46, WD-LT1000P, RWF4700A, BL003-S, CF-1000P, PP-LT1000P
Where is the filter housing in my refrigerator?

The filter housing is located in the top left corner of your refrigerator.
How do I install this filter?
What substances does this filter remove?

This filter thoroughly captures and absorbs large, medium, and small size contaminants from the users water. Our advanced filtration system removes 99% of total suspended solids, volatile organic compounds, sediment, heavy metals, chloramines, and other pollutants.
How does Mist CWMF002 compare to LG LT100P refrigerator water filter?

Our filters function the same as the OEM filters. They fit and lock into the housing and filter the water to NSF standard 42.
What are the filter specs?

Filter Life • 200 gallons
Flow Rate • .528 gpm
Operating Pressure • 20-120 psi
Operating Temperature • 34-100°F